U.S. stocks rose toward a record, the dollar strengthened and Treasuries tumbled as investors piled into riskier assets after Hurricane Irma wreaked less damage than forecast and North Korea failed to exacerbate tensions.
The S&P 500 Index headed for an all-time closing high and the Dow Jones Industrial Average topped 22,000. Bloomberg's dollar index rose for the first time in eight days and 10-year Treasury yields climbed past 2.10 percent. European and emerging-market equities also advanced, while gold, the yen and the Swiss franc retreated.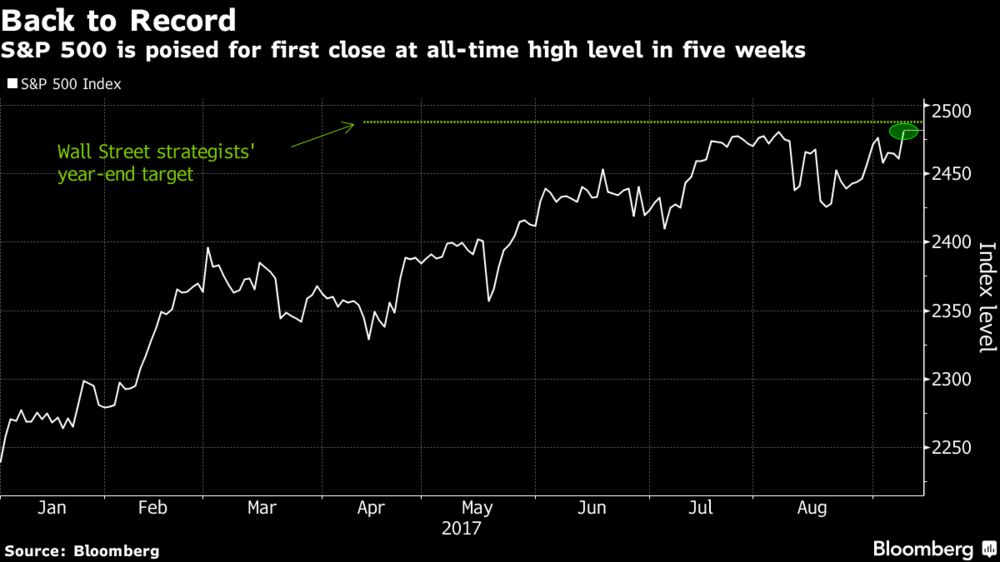 Pyongyang warned of retaliation if the UN Security Council approves harsher sanctions over its recent nuclear test in a vote Monday. But speculation that the country would mark the anniversary of its founding with another missile over the weekend didn't come to pass.
"The better risk environment has seen Treasury yields move higher while the yen retreated," Chris Scicluna, the head of economic research at Daiwa Capital Markets in London, wrote to clients. Hurricane Irma appeared "not to be quite as catastrophic as had been feared last week" and "thankfully there was no bad weekend news out of North Korea."
Insurers jumped in markets from Europe to Florida, cruise-ship operators rallied and oil advanced amid signs that predictions about Hurricane Irma's damage were excessively dire. By one estimate, damages will total $49 billion instead of an earlier prediction of $200 billion. Still, at least 6.4 million were without power, millions displaced and as much as 15 inches of rain were forecast in what may go down as one of the worst storms in Florida's history.
Meanwhile, Federal Reserve speakers are now in a blackout period before next week's policy meeting, so investors are likely to devote much of their attention to assessing the impact of natural disasters on U.S. growth.
Terminal subscribers can read more on our Markets Live blog.
The key events this week:
U.S. retail sales and inflation data are due this week.
Brexit Secretary David Davis warned U.K. lawmakers that blocking the Repeal Bill could lead to a "chaotic" departure from the EU. The measure goes to a vote Monday.
The Frankfurt Motor Show is underway.
Norway's election is today.
Apple Inc. will reveal its newest products on Tuesday, which will probably include new iPhones and a fresh version of the Apple watch.
The Bank of England will almost certainly leave policy unchanged Thursday, even though the U.K. inflation reading two days earlier may show a pickup.
Also due this week, India's trade surplus and China's August industrial production, retail sales and fixed-asset investment.
Australia releases jobs data on Thursday.
Here are the main moves in markets:
Stocks
The S&P 500 Index added 1.1 percent, headed to its biggest gain on a closing basis since March, as of 12:43 p.m. New York time
Giant reinsurers like Swiss Re and Munich Re posted their biggest gains of the year.
The Stoxx Europe 600 Index jumped 1 percent to the highest in a month.
Brazil's Ibovespa surged to a record on speculation the government will succeed in pushing through measures to shore up fiscal accounts
The MSCI All-Country World Index climbed 0.8 percent to the highest on record.
The MSCI Emerging Market Index increased 0.7 percent to the highest in three years.
Currencies
The Bloomberg Dollar Spot Index gained 0.5 percent for the first advance in more than a week.
The euro declined 0.6 percent to $1.1963, the first retreat in more than a week.
Mexico's posted the biggest advance in emerging markets, climbing 0.4 percent.
Bonds
The yield on 10-year Treasuries rose seven basis points to 2.12 percent, the highest in a week.
Germany's 10-year yield climbed two basis points to 0.33 percent.
Britain's 10-year yield increased five basis points to 1.04 percent.
Commodities
Gold sank 1 percent to $1,332.88 an ounce for the biggest tumble in two months.
West Texas Intermediate rose 1.4 percent after falling as much as 1 percent
Base metals rebound from biggest drop in 9 months.
Asia
The Topix index rose 1.2 percent at the close in Tokyo, its steepest advance since early June. South Korea's Kospi index added 0.7 percent as did the S&P/ASX 200 Index in Sydney. Hong Kong's Hang Seng Index rose 1 percent, while gauges in China were mixed.
The MSCI Asia-Pacific Index added 0.4 percent to the highest since December 2007.
The Japanese yen sank 1.2 percent, the most since mid-June, to 109.17 per dollar.